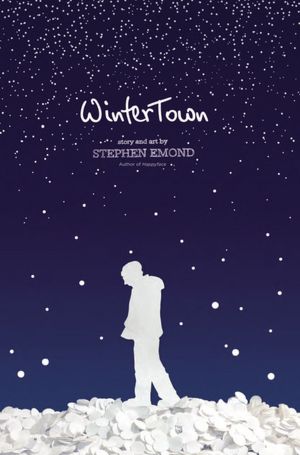 First published: 19th Jan 2012
By: Little, Brown Young Readers
Every winter, straight-laced, Ivy League bound Evan looks forward to a visit from Lucy, a childhood pal who moved away after her parent's divorce. But when Lucy arrives this year, she's changed. The former "girl next door" now has chopped dyed black hair, a nose stud, and a scowl. But Evan knows that somewhere beneath the Goth, "Old Lucy" still exists, and he's determined to find her… even if it means pissing her off.
Can opposites attract? Or does growing up mean having to grow apart?
Told from two perspectives, this funny and honest novel by Stephen Emond is a unique combination of text, comic strips, and art. It's an indie movie in a book, perfect for the inner outcast and lovelorn nerd in all of us.
My review:
Winter Town
has my favourite cover or 2012; I love it and it alone is what made me excited to read the book. However, as soon as I read the above synopsis, with the line "it's an indie movie in a book", my excitement significantly deflated. We all have prejudices against some genres and that description made me think Winter Town was going to be smirky and self-satisfied and full of obscure references to things that were too cool for me to get
.
I can say that Winter Town wasn't like that. OK, the characters make lots of references to things from manga and indie music, but I got at least two-thirds of them. Unfortunately though, my assumption that this book wouldn't really be for me was proved correct and I didn't really like it.
A big problem for me was the writing - it was very simple and plain, so much so that it seemed childish to me. This may have been compounded by the fact that the book I read before Winter Town was Chime by Franny Billingsley and it was a mistake to follow the former with the latter. The writing of Chime isn't to everybody's taste (I'm not even sure it was to mine), but it is unique, strange, lyrical and clever and Winter Town seemed very bland to me in comparison.
I also couldn't like or connect with the characters. The whole story is told in third person restricted, with the first half being in Evan's head and the second half switching to Lucy's. I didn't like or dislike Evan, I just found him boring, with some real first world problems ("I'm brilliant at everything! Which amazing talent should I follow?"). Lucy, I did dislike. Lucy's insistence that there was something wrong with Evan being a good kid and that he needed to go off the rails and do dumb, illegal stuff to truly live, bugged me considerably. And not because I was one of those good kids - I was actually more of a Lucy than an Evan and I wish I could go back and be more focused and hard-working, not more wild. I did feel sorry for Lucy's situation, but it's very cliched
'problem teen' stuff (hating mum's new boyfriend, falling in with the wrong crowd). I felt like I'd read stories like that so many times because, well, I have.
Why didn't I DNF? Well, the simple writing I complained about does make
Winter Town
very easy to read and I finished it quickly. And I did like the comic strips that start every chapter. I didn't think they had a whole lot of relevance to the main story, but they were cute and funny. Stephen Emond also writes a comic book series, Emo Boy, and I think I might possibly enjoy that more. Winter Town, as I've said, just wasn't the book for me.
Rating: 2.5 stars