Top Ten Books I Want to Reread
10. His Dark Materials series by Philip Pullman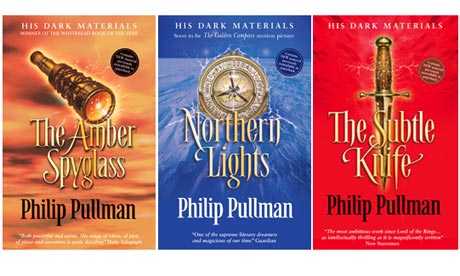 I read this series for a class on children's literature, as part of my English degree. I absolutely loved it and wrote what I think was one of my best essays on it, but it would be nice to reread these books, free from the pressure of knowing my thoughts on them would be marked and graded.
9. Twilight by Stephenie Meyer
When I first read this book in 2008, I thought I was reading just another teen novel. It was already popular - that's how I heard about it - but I didn't know it would become a bonafide phenomenon. I think it'll be interesting to go back and read it with new eyes, knowing what a huge impact it's made on popular culture.

8. Fire by Kristin Cashore
I really loved this book and the world of monsters and gracelings that Kristin Cashore created. I would just like to revisit it and spend time with the characters again.
7. The Princess Diaries by Meg Cabot
I read this after a year of reading nothing but dusty classics during the first year of my degree. Many of those classics are great books, but they tended to have heavy subject matters and when I picked up The Princess Diaries, it was like letting sunshine into my life again. From then on, I needed to read a Meg Cabot every few books, just to keep me smiling. I want to remember that feeling.
6. The Book Thief by Markus Zusak
I actually am getting the chance to reread this, as it was chosen for my bookclub. I first read it 2 years ago and I knew from the first page that I was reading a classic that would be on my shelf forever.
5. The Harry Potter series by J. K. Rowling
If this is not on every list, it'll be because so many already reread these books over and over. I can actually track how busy my reading got by the Harry Potter books: Books 1-4 I read many times, but by the time Order of the Phoenix was released, I was swamped by my TBR list and only have read the final 3 once. I want to reread the whole series again, from beginning to end.
4. Bonjour Tristesse by Fran
ç
oise Sagan
This is a book that had a really big impact on me when I was 17. For those of you who aren't familiar, it's about an extremely sophisticated and liberal French teenager. I read it and I wanted to be French and smoke cigarettes and drive men wild with my allure. It will be interesting to read it now that I'm older and hopefully, saner.
3. The Bell Jar by Sylvia Plath
Speaking of books that impacted me as teenager. I thought Sylvia Plath had somehow read my diary; her writing was so similar to the thoughts going through my emotional teen mind. Don't know what I'd think of it now.
2. I Capture the Castle by Dodie Smith
How much do I love this book? So, so much. I used to reread it at least once a year, but in the last few...that toppling TBR pile has prevented me. I am dying to meet Cassandra and the castle again.
1. Girl by Blake Nelson
I am more curious about rereading this book than any other. When I was about 19, I picked it up in the library on a whim, knowing nothing about it. And I was blown away by it. I couldn't believe that a male author could so perfectly capture the mind of a teenage girl. But since then, I've never met another person who's read it or seen it mentioned anywhere on book lists. I'm starting to feel I maybe imagined how good it was. Well, there's only one way to find out.